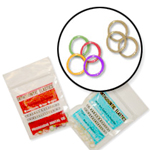 Elastics (Rubber Bands)
Wearing elastics (or rubber bands) improves the fit of your upper and lower teeth. Wear rubber bands as instructed, and remember that the rubber bands work far more efficiently if they're worn as prescribed.

---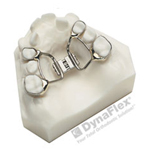 Palatal Expander
The palatal expander "expands" (or widens) your upper jaw by putting gentle pressure on your upper molars each time an adjustment is made. Your orthodontist will instruct you about when and how to adjust your expander. When you achieve the desired expansion, you will wear the appliance for several months to solidify the expansion and to prevent regression.

---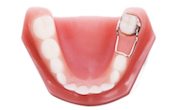 Space Maintainer
Space maintainers are appliances used in the mouth to preserve and maintain space. They are necessary when one or more primary molars have been prematurely lost due to decay or injury. Using a space maintainer allows the permanent teeth to erupt, or grow, into the correct alignment with proper tooth-to-tooth contact.

---

Habit Appliances
Tongue crib, bluegrass, and thumb rake are a few appliances used to prevent the habits of tongue thrusting (pushing the tongue against the back of the front teeth) and thumb sucking. Thumb sucking that persists beyond the eruption of primary teeth can cause improper growth of the mouth and misalignment of the teeth. If you notice prolonged and/or vigorous thumb sucking behavior in your child, talk to your dentist.

---

Carriere® Distalizer™ Appliance
The Carriere Distalizer is an orthodontic device developed to correct a bite without removing permanent teeth when teeth have erupted incorrectly. With an effect similar to headgear, but without the use of a bulky appliance, the Carriere Distalizer pushes upper teeth back to create a corrected bite prior to the addition of braces.